What is an electronic script?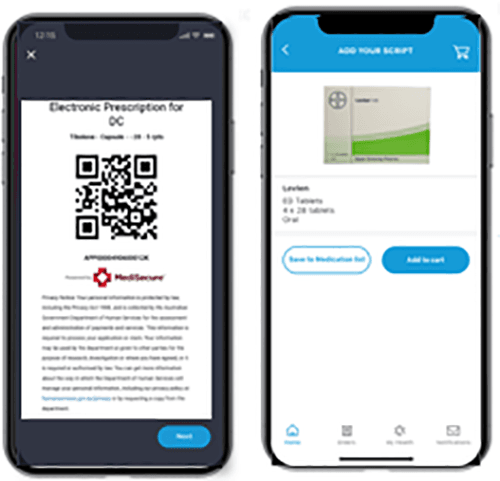 Electronic scripts are a new way for you as a patient to receive a script from your doctor.
It's pretty easy. 
Instead of your doctor giving you a traditional paper script, ask them for an e-script.
What happens? Well instead of a piece of paper an e-script will appear on your mobile phone as a text message or as an email.
It looks like this.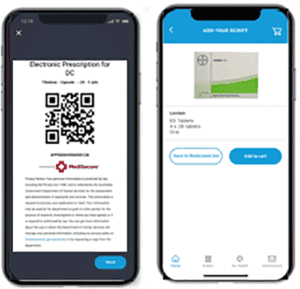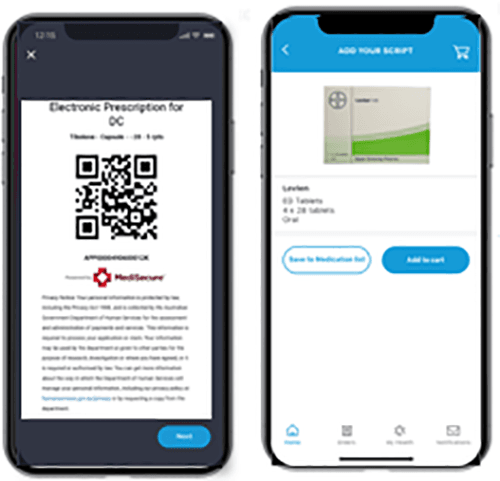 You simply long press on the link (hold down on the link with your finger) and choose to load the e-script into Medmate.
It's that easy.
Medmate's pretty cool because you can then add any other scripts and pharmacy items to your order, choose the best value pharmacy near you and choose delivery to your home.
Amazing.
So much better than a boring paper script. It really helps the pharmacy as well – no more deciphering illegible doctors writing! It keeps you and your family safe.
E-scripts and Medmate. It's a perfect match!
How do I get my medicine delivered?
Too busy to get to the pharmacy. Unwell and stuck at home?
Medmate's here to help.
In a few simple steps have your medicine and pharmacy items delivered to you at home.
Step 1
Download the medmate app here
Step 2
Ask your doctor for an e-script
Your doc can give you an e-script at a regular doctor's appointment or a telehealth appointment.
The e-script will appear on your phone as a text message or an email.
Step 3
Long press on the link (hold down on the link with your finger) and choose to load the e-script into Medmate.
Step 4
Add other scripts or pharmacy items to your order
Step 5
Choose the best value pharmacy
Step 6
Choose delivery or pickup
Step 7
Confirm the order and delivery time from the pharmacy and wait for your package to arrive.
How to get your medical clinic ready for electronic prescriptions
Ensure your practice has a Healthcare Provider Identifier – Organisation (HPI-O) and is connected to the HI service. This is a core requirement for electronic prescribing. Information about how to register your organisation for aHPI-O is available here.
Ensure your practice is connected to a Prescription Delivery Service. Medmaterecommends activating Medisecure prescription delivery service – click here to register.
Educate your patients about the Medmateapp
Update your patients' and their carers' contact details on file (mobile phone number/email)
What is Medmate?
The lightening strike of Covid-19 has seen Australian medical clinics introduce telehealth capability within a matter of weeks. Consumer sentiment has changed and patients want the choice of receiving healthcare in a more convenient way. Clinics need an immediate solution for seamless medication supply directly to patients at home.
Medmate is a secure app developed by Australian GPs and pharmacists to help patients manage medication supply directly from their mobile phone. Patients receive e-scripts by SMS after a doctors consultation, load these into medmate, order and pay for medications from the best value local pharmacy and choose pick up or delivery. Patients request new e-scripts (if you approve this service) or rebook appointments with your clinic directly from the app.
For clinics medmate:
Makes telehealth easier
Improves health outcomes through better adherence
Increases clinic efficieny – less paper and printing costs!
Improves consultation demand
Increases clinic loyalty
Pathology e-referrals coming soon.
Its free for clinics and for patients.