How Prahran Midnight Pharmacy transformed into an online pharmacy.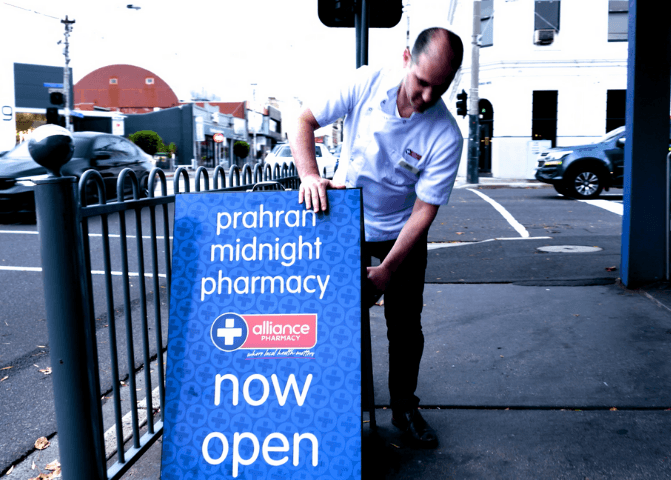 Speeding up pharmacy into the modern world.
Prahran Midnight Pharmacy has been providing outstanding pharmacy services to the community for over 40 years.  Locally owned and operated, Pharmacist Daniel Mendoza works closely with local GPs as well as local hospitals to look after patients and their medication. Prahran Midnight has transformed its pharmacy service with Medmate online on-demand ordering and delivery. Daniel and his team have connected with patients in a new way by providing a flexible and convenient service to meet the needs of the modern healthcare consumer.
Why did Prahran Midnight Pharmacy Partner With Medmate?
Stand out in the local marketplace
Medmate offers local pharmacies differentiation through exposure to new healthcare consumers looking for convenience, value and great service.
Position itself as the best local pharmacy
Healthcare consumers are increasingly digitally aware and looking for a great experience. Prahran Midnight is driving trust and loyalty with 24-hour online ordering/payment and home medication delivery.
New marketing opportunities
Medmate provides direct-to-consumer digital marketing opportunities and a dynamic e-commerce platform. More customers browsing digital aisles 24hrs a day.
Expand it's customer base
Going online has increased the pharmacy's catchment beyond typical boundaries through representation across multiple postcodes.
How it works.
Register
Contact one of our customer service representatives at support@medmate.com.au. It's free to get started.
Set-up
Customise your on-line store and medication pricing with your catalogue.
Receive orders
Get started instantly with online orders and prepare them for delivery or in-store pickup.
Key takeaways.
Healthcare and pharmacy are transforming at a rapid pace. Consumers are demanding access to healthcare services in continous and convenient ways. Medmate provides a means for pharmacies to instantly transform their bricks and mortar services into 24hr online retailers.
Daniel Mendoza B.Pharm (Hons)
I have been a career pharmacist for over 16 years, most of that time in roles managing and leading pharmacy teams.
I love the daily interaction with patients that occurs in a local community pharmacy. I enjoy all areas of my role, but have a special interest in ensuring accurate advice about medication is given to women who are pregnant or breastfeeding. I have a young family of my own and am therefore quite knowledgeable and passionate about managing childhood conditions. I also have undergone additional training to administer vaccinations in the pharmacy. I make sure that my pharmaceutical knowledge is always up to date so that I can provide you with the service you deserve.
All my staff share my values and know that being trusted, reliable and down to earth will lead to a valued pharmacy experience for all. I am very proud of my team of staff and the professional care they provide to our patients every day of the year. 
Have your say in the future of Medmate.
At Medmate, we regularly ask for feedback from the people who use our service. Because when you share your experiences and help us test new features, we can build a service that works for you.
Want to get involved? Sign up to the Medmate Community newsletter and send an email to support@medmate.com.au