Doctor Living with Rheumatoid Arthritis Prepares for the Covid Vaccine.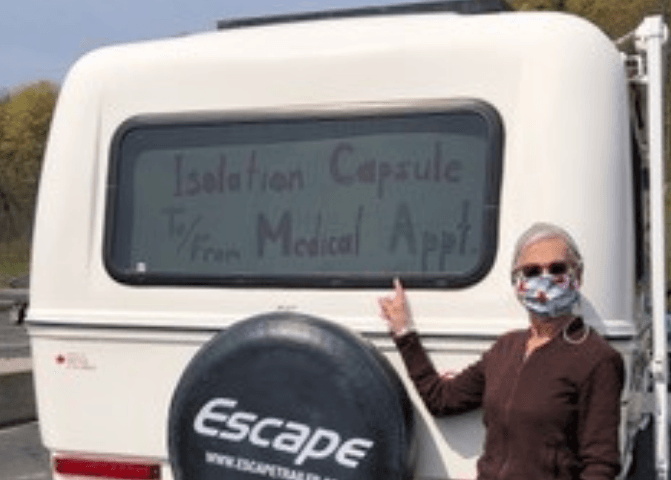 Charmaine's story – managing Rheumatoid Arthritis and avoiding Covid.
Dr Charmaine Jones is a retired doctor living with Rheumatoid Arthritis. Charmaine is doing the best she can to cope with managing her Rheumatoid Arthritis during the pandemic. What does she do to maximise the effectiveness of the covid vaccine while taking immunosuppressive medications for Rheumatoid Arthritis?
A 5 hour Trip to see a Rheumatologist.
Linda and I headed off for my rheumatology appointment last week. It had been 1.5 years since I had seen my consultant in person, due to Covid. We arranged to "camp" in Linda's sister's driveway, 45 minutes away from the appointment (which is 5 hours from our home). The campsites are all closed (private and public) in Ontario due to "stay at home" order in place currently. The sign is to explain why this camper is on the road!
Prednisone, Rheumatoid Arthritis and the Covid-19 Vaccine.
I had been reading that prednisone is one of the medications that may well lower the responsiveness of the immune system to the Covid vaccine but I have not in the past year been able to lower my prednisone dose below 7 mg daily without starting to get the odd swollen joint.  Whereas, when I had been on biologics (a type of injectable medication) I had quickly gotten off prednisone. Even with the Leflunomide (conventional DMARD) and prednisone, I continued to have a mild painless swelling on the outside of my right wrist. Was this synovitis (inflammation of the lining of the joint)? A sign of smouldering inflammation? My biomarkers of inflammation are within normal limits.
I'm mindful that the prednisone doesn't cause me any immediate adverse effects such as weight gain or poor sleep; however, there are long term consequences such as osteoporosis, diabetes and cataracts.
Reducing Prednisone to Increase Effectiveness of the Covid Vaccine.
Yes. There is synovitis seen on ultrasound in the doctor's office. Even though my biomarkers of inflammation (CRP, ESR) are in normal limits, I do indeed have smouldering inflammation.
Yes. Prednisone can lower the responsiveness to the Covid vaccine (or any vaccines probably).
It would be better for me long term (and I hope to have a "long term") to be off the prednisone and not to have smouldering inflammation which could lead to cardiac complications and joint destruction.
So I will add a JAK inhibitor  (Janus Kinase inhibitor – Xeljanz) to my regime. With luck, I will respond well, and be able to lower the prednisone before my second Pfizer Covid vaccine in July.
I will start with half the usual dose. I am on half the dose of leflunomide: a full dose gave me hypertension. I am averse to taking a medication to counteract the adverse effects of another medication! I developed adverse effects to two biologics, even on paediatric doses!
Immunosupressive Medications and the Covid Vaccine.
My rheumatologist is a principle investigator of a $3M federal grant to study how persons with autoimmunity on immune suppressive medications respond to the Covid vaccines! Will it be safe for grandparents with autoimmunity to visit their grandchildren after their full vaccination? Count me in! And…Linda is also included as part of the control group! And…. they could fit us into the tail end of another study which was doing immune profiles on persons to see what the background of Covid infections, asymptomatic ones, might be. This nets me a fully immunologic analysis – antibodies, neutralizing antibodies, and lymphocyte analysis (memory cells, killer cells etc). Score!
It is easier to get off the island now (than in winter) in case I need medical attention. So this is a good time to make a change. I hope to be stable for 3 months before leaving Ontario for travel medical insurance coverage in the hopes of flying to Australia to visit family this coming winter.
So…wish me luck. It is nerve wracking to read the possible adverse effects of medications. However, this bunch doesn't sound any worse than for those medications I have already been on.
If you have comments, input, questions, opinions….. please comment below.
Safely distanced hugs!
Charmaine

Dr. Charmaine Jones MD (AOA)
Retired Palliative Medicine.
Director of Dragon Claw, Patient
with Inflammatory auto-immune
Arthritis Enthesitis. Exploring
functional medicine and lifestyle
changes to lower medications as
much as possible. Ontario, Canada.
There is no cure for Rheumatoid Arthritis.
Learn how to achieve your best quality of life not defined by your disease.
Get access to Australian doctors and pharmacists 24/7 to answer your questions about Rheumatoid Arthritis.
Free articles from health experts about evidence based management to prevent permanent joint damage, chronic pain and life threatening complications.
Your questions answered about natural therapies for rheumatoid arthritis. Are they effective? Are they safe?
Stop feeling isolated. Join other Australian RA patients in the Medmate Community below. We're all in this together.