These rapid antigen tests are available for free delivery within 3 business days

Frequently Asked Questions
What is Medmate?
We believe healthcare should be easier.
Medmate is a national Australian Government approved medication platform, developed in consultation with GPs, pharmacists, consumers and the Australian Digital Health Agency. The medication ordering platform is a conformant software product for ePrescribing, and is listed on the Australian Digital Health Agency's ePrescribing Conformance Register.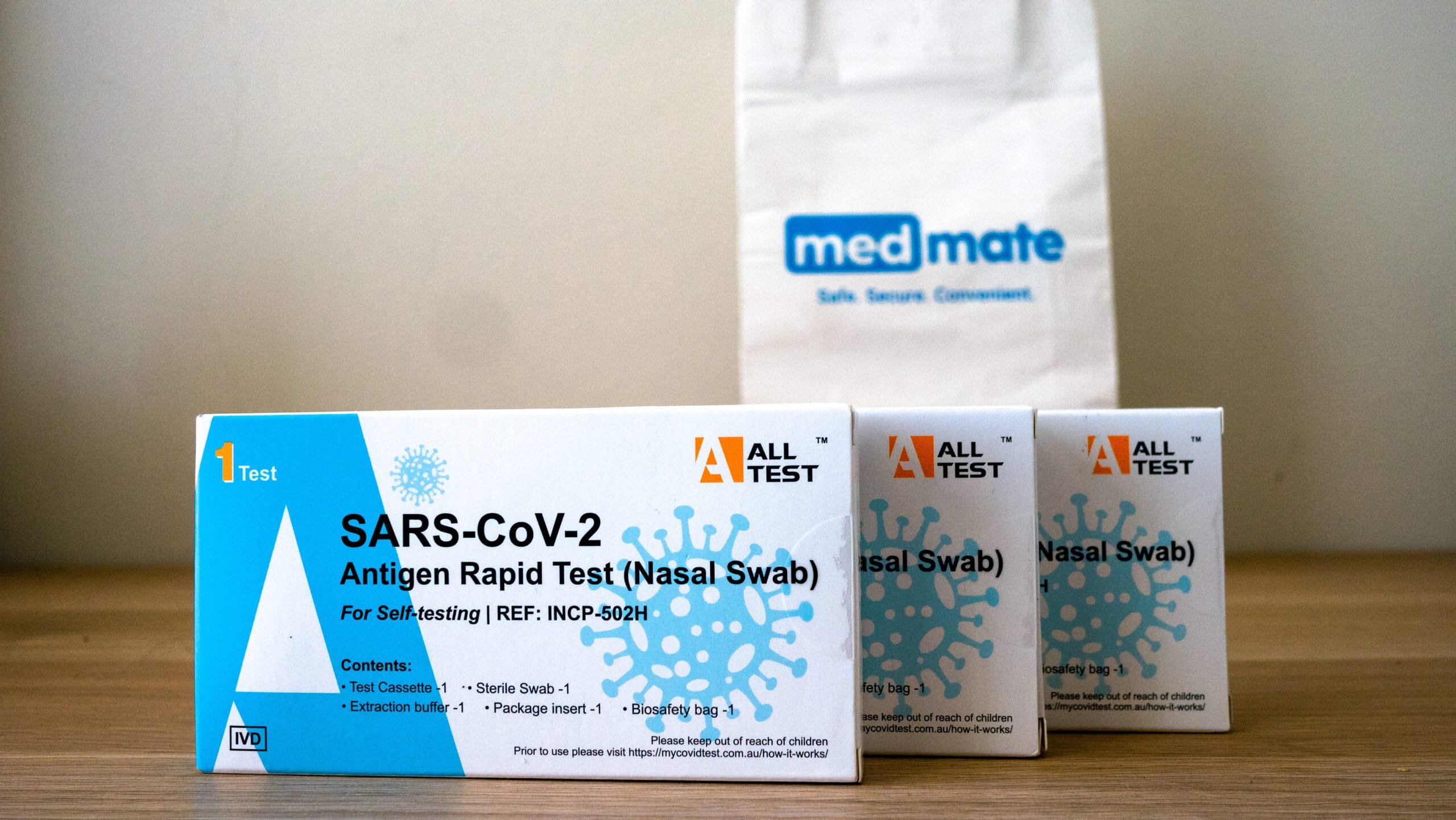 Can I pick up my rapid antigen test?
No.
This is a delivery only service.
Please do not attend our headquarters. No stock is available at this site.
How long will delivery take?
Free National delivery
Estimated 5 business days from order date.
What type of rapid antigen test kits are available?
ALL TESTS ON MEDMATE ARE TGA APPROVED
The CELLIFE COVID-19 Antigen Test Cassette is a rapid test for the qualitative detection of SARS-CoV-2 nucleocapsid antigen in anterior nasal swabs. It is used to aid in the diagnosis of SARS-CoV-2 infection that may lead to COVID-19 disease.
The test is suitable for people with symptoms. Minors must be tested with the assistance of an adult.
The test is single use only and intended for self-testing, it is recommended to use this test within 7 days of symptom onset.
Click here to read important product information
The CLUNGENE COVID-19 Antigen Rapid Test is a lateral flow immunoassay intended for the qualitative detection of SARS-CoV-2 nucleocapsid antigens in nasal swabs from individuals suspected of being infected with COVID-19 within the first 7 days of symptom onset. This test is intended for self-use by persons aged 15 years or above and also for an adult testing another person under 15 years of age.
The TESTSEALABS COVID-19 Antigen Test Cassette is an at home, self-test designed for the qualitative detection of the COVID-19 antigen. This test is single use only.
This product features:
ARTG Listed
Nasal Test
One time use
Disposable
Click here to read important product information
The All Test SARS-CoV-2 Antigen Rapid Test is a rapid test for the detection of COVID-19.
This test is rated as "Very high sensitivity" by the Therapeutics Goods Administration (TGA).
The greater the sensitivity, the greater chance the test has at detecting COVID-19, the less chance of a false negative.
Click to read important product information
Can these rapid antigen tests for used to detect the Omicron variant of Covid-19?
Yes.
These rapid antigen tests will still detect COVID-19 whether it is delta or alpha or omicron.
Data is still emerging about differences in sensitivity with the variants.
How do I use the Rapid Antigen Test (nasal)?
How does the Rapid Antigen Test work?
The test is for the qualitative detection of SARS-CoV-2 antigens in self collected swab specimens. A positive test result indicates COVID-19 present in the specimen.
What are the symptoms of Covid-19?
Symptoms of COVID-19 can range from mild to severe. Some people recover easily, and others get very sick very quickly. If you test positive for COVID-19 you may experience:
fever
coughing
sore throat
shortness of breath.
Other symptoms include:
runny nose or congestion
headache or fatigue
muscle or joint pains
nausea or loss of appetite
diarrhoea or vomiting
temporary loss of smell or altered sense of taste.
COVID-19 symptoms are similar to some common illnesses, such as colds and flu, or allergies.
What is break through Covid?
A break through COVID infection is when you develop a COVID infection despite being vaccinated against the virus.
Breakthrough infections can occur with any vaccine as they are not always 100% effective.
The COVID-19 vaccines are very effective at preventing severe complications and death from COVID. However, breakthrough infections are occurring and seem to be more common with the delta variant which seems to be more virulent than the other forms of the virus.
When should I get a rapid antigen test?
Use a Rapid Antigen Test:
If you're a household, social, workplace or education contact and you don't have symptoms, you are recommended to get a rapid antigen test

See more information about when to get these tests by viewing the 

Checklist for contacts

You will still need to get a PCR test if you have symptoms or test positive on a rapid antigen test

If you want to quickly check if you may have COVID-19, for example, before attending a crowded event, social gathering or visiting vulnerable people
As part of an established surveillance program such as one organised by your school or your employer
When should I get a standard PCR test?
If you have symptoms
If you tested positive on a rapid antigen test and you need a standard (PCR) test to confirm your result
If you are a household contact and don't have symptoms, but you can't access the rapid antigen test you need to use
How accurate are rapid antigen tests? Can the result be incorrect?
The manufacturer states that the results are accurate as far as the instructions are carefully respected. The results can be incorrect if inadequate sampling volume or the testing kit gets wet before sampling, or if the number of extraction drops are less than 3 or more than 4.
Due to immunological principles involved, there exists the chances of false results. A consultation with a doctor is always recommended.
What is serial testing with rapid antigen tests?
Serial testing is using a rapid antigen test for COVID-19 more than once using the same test.
Because rapid antigen tests are less sensitive than COVID-19 PCR tests and false results may occur, repeated testing may be more accurate than testing with a single test.
Talk to your doctor about the appropriate testing regime.
Your doctor may advise you to test over two or three days with at least 24 hours between tests.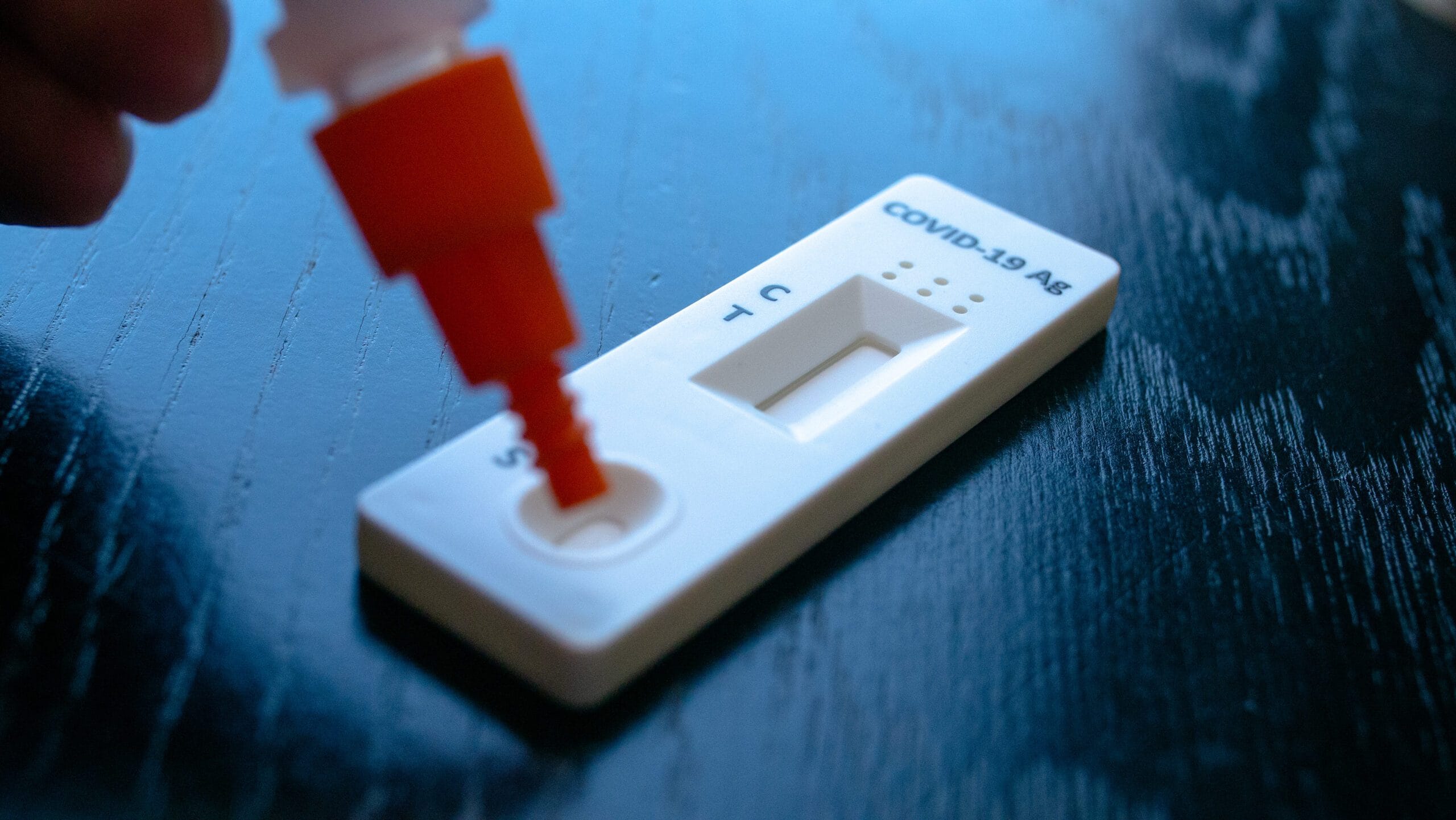 How to interpret the test if the colour and intensity of the lines are different?
The colour and intensity of the lines have no importance for result interpretation. The lines should only be homogenous and clearly visible. The test should be considered as positive whatever the colour intensity of the line is.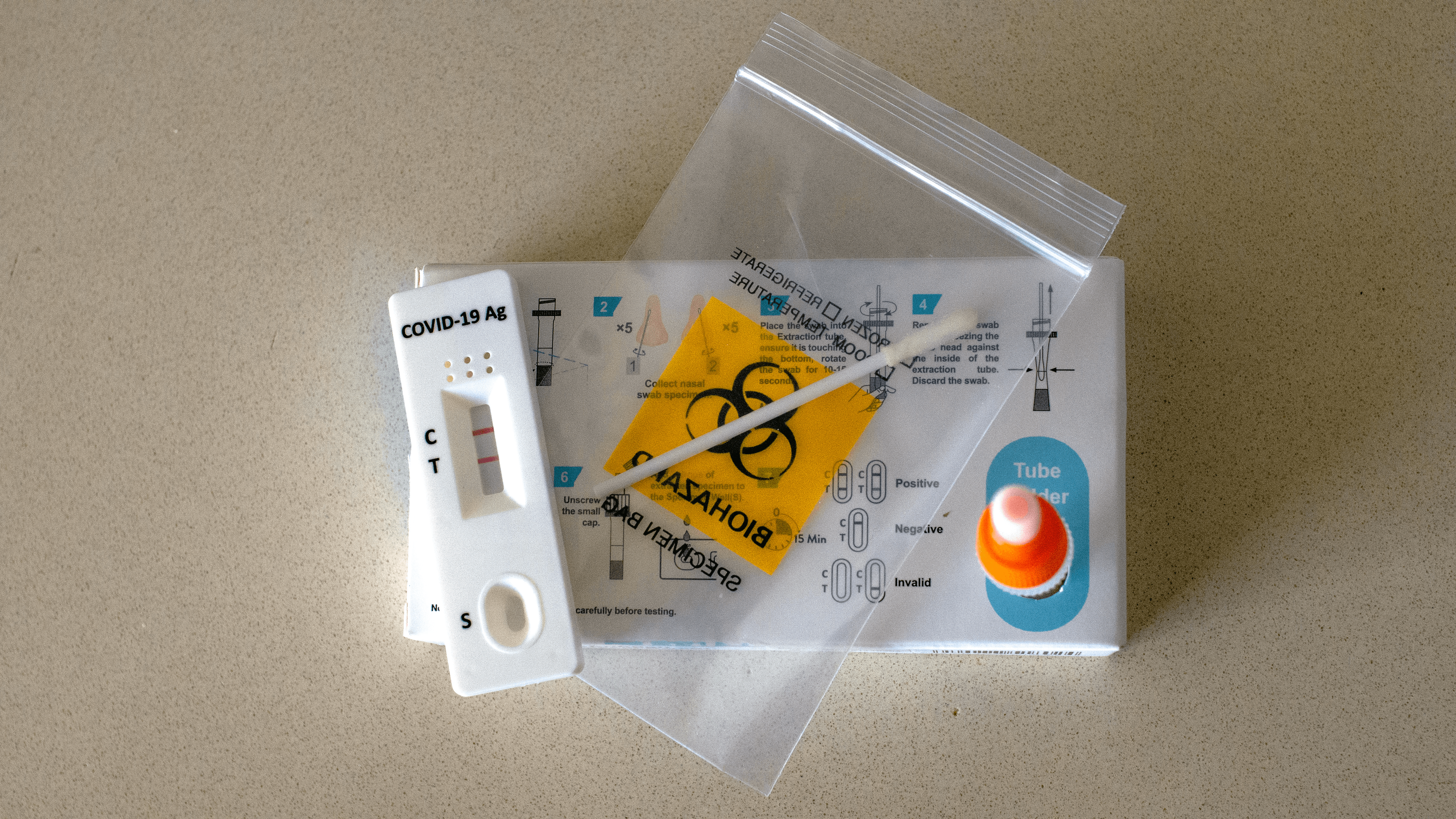 What do I have to do if the result is negative?
It is unlikely you have COVID-19, especially if you have no symptoms.
What to do next:
Do you have symptoms?
Yes

Get a standard COVID (PCR) test to be sure.

No

You do not need to get a PCR test.
A negative result indicates that you are negative for COVID-19 or that the viral load is too low to be recognized by the test. However, it is possible for this test to give a negative result that is incorrect (a false negative) in some people with COVID-19. This means that you could possibly have COVID-19 even though the test is negative.
What do I have to do if the test result is positive?
It is likely you have COVID-19.
Note: the result is positive even if the second line is very thin/faint.
What to do next:
Isolate immediately.
Get a standard COVID (PCR) test immediately.
Tell the testing site about your positive rapid antigen test.
What if I have a question about the tests?
Call 1300 858 909
Our support team is available 9am–9pm, Australian Eastern Time, 7 days a week.
Need to talk to a doctor?
Connect to a Medmate doctor 24 hours a day 7 days a week via our telehealth service. You will be able to see a doctor within the hour and have the script send to you by SMS.
Click here to make a telehealth appointment now
What happens if Medmate is out of stock of testing kits?
Medmate communicates with you every step of the way. Our team will be in contact if there is a stock issue or a delay with the order.
We will get the order to you as quickly as possible.
How to get home medication delivery if you have Covid?
It is really difficult to get the things you need when you are unwell with COVID and isolated.
It is likely that your entire household will also be isolated due to being a close contact. It's important to make arrangements as to how to get essential supplies like food and medicines delivered.
Most supermarkets such as Coles and Woolworths have online delivery services. You can get all your groceries delivered the same day if required.
For medication needs, Medmate is able to get prescription medications and pharmacy items delivered to your home with contact safe precautions within 60 minutes. You can shop from a local pharmacy who will also provide important medication counselling.
Items you may want to consider to order online with Medmate:
Prescription medications such as antibiotics
Rehydration solutions such as Hydralyte and Gastrolyte
Sore throat treatments such as Strepsils and Betadine Sore Throat Gargle.
Paracetemol
Nurofen
Codral Night (this also contains paracetamol)
Face masks
Disinfectant wipes
Vitamins and Berocca
Make sure you follow the advice of your doctor and pharmacist.
How do I talk to someone if I need some help?
To talk to customer service call 1300 858 909
Our support team is available 9am–9pm, Australian Eastern Time, 7 days a week