Find A Pharmacy – Where's The Closest Pharmacy To You?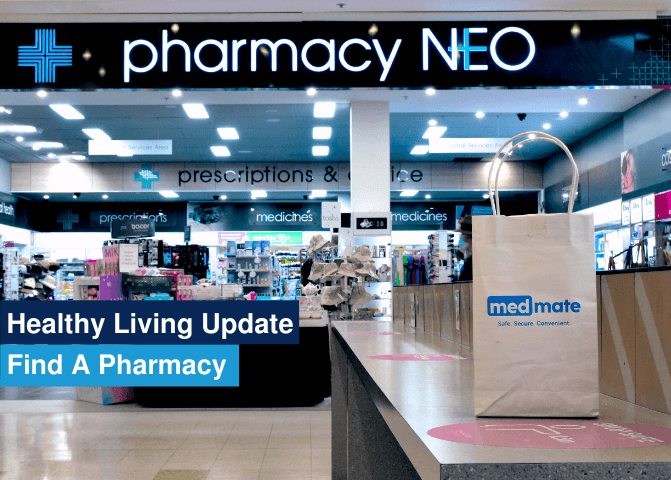 What are the pharmacies nearest to you? How do you order medication online? Read on to find out how you can make the most out of online pharmacy services.
How do you find a pharmacy nearby? Well, how do you locate the closest pharmacy to your current location? Australia is fortunate to possess one of the world's finest healthcare systems, ensuring that most patients reside just a few kilometers away from a community pharmacy. Nevertheless, as our lives become increasingly hectic, we seek convenient ways to access pharmacy services that align with our busy schedules. Fortunately, Australia now offers online pharmacy services, delivering medications right to your doorstep within the hour – essentially bringing the chemist to your home. Let's explore the optimal methods for obtaining the medications you require, whether it involves visiting a local chemist in person or placing an order online.
Find a Pharmacy
There are over 5500 pharmacies in Australia. Most are local community pharmacies and provide retail chemist services for prescription medications and over the counter products. Most retail areas of Australia have good access to local chemists. Local retail strip shops and larger shopping centres will generally have a licenced pharmacy that is able to provide for all your medication needs. Traditionally, people have found a pharmacy simply by walking into a store they have seen nearby or finding a pharmacy using a directory service like Yellowpages or Google.
Find a Pharmacy Near Me
The easiest way to find a pharmacy near you is through Medmate, a secure Australian Government approved portal for online pharmacy ordering. The Medmate app and website have a list of over 1000 pharmacies Australia wide that you can order from. To make things even more convenient you can order online to skip the queue with click & collect or have your medications home delivered within 60 mins using Medmate's delivery services.
Another good place to find a pharmacy is Pharmacy Directory. This directory has a convenient store locator which lists the pharmacies near you with useful information on pharmacy opening hours.
With both Medmate and Pharmacy Directory simply enter your address into the search bar.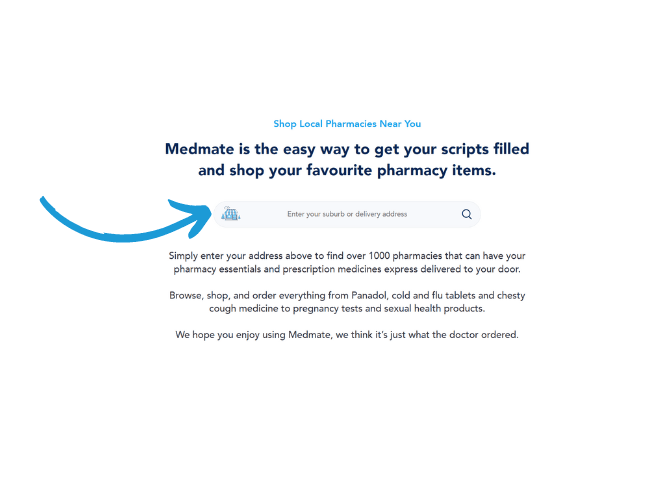 You will then see a list of pharmacies nearby.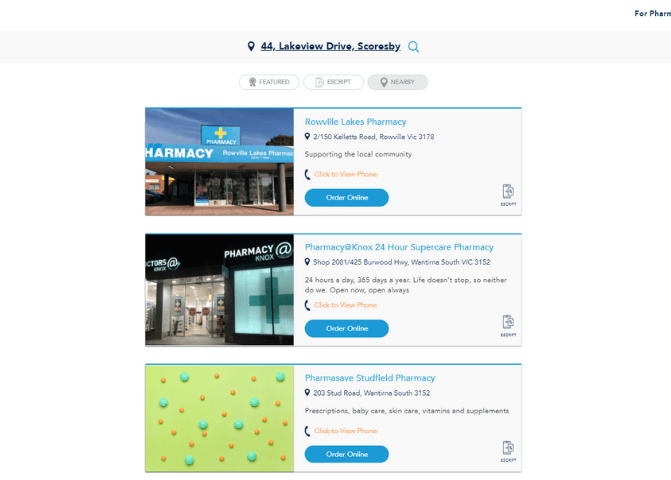 The list will have an "Order Online" button if the pharmacy is ready to accept online pharmacy orders for prescription medications and over the counter products.
For pharmacies that don't have an order online button, you will need to call the pharmacy directly or walk in.
If you have a local pharmacy that you would like to have listed on Medmate please ask your pharmacist to email support@medmate.com.au to get listed instantly.
Online Pharmacy Australia
Many pharmacies now offer online services. You can order pharmacy products online using the pharmacy website or on their Medmate shop. Pharmacies that are listed on Medmate allow you to order prescription medications via eScripts as well as general pharmacy essentials.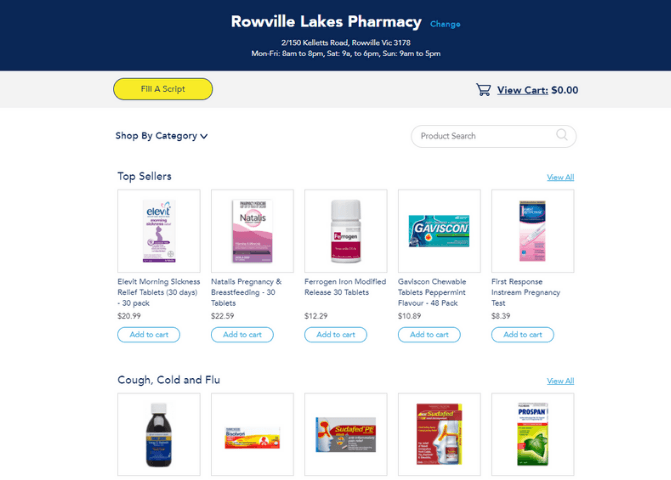 Ordering medication online has many benefits, including:
Staying COVID safe by skipping the queue and avoiding exposure to germs with click & collect or express delivery.
Online pharmacy shopping 24/7 makes it so much easier to get your medications on a busy schedule.
For patients that have a disability or limited transport, medication delivery is so much simpler.
Convenience. Is just so much more convenient for all of us that are living busy lives to get the medications we need when we need them with simple express delivery.
The types of products that patients commonly buy online are:
Prescription medications:
Antidepressants
Asthma medications
Blood pressure medications
Cholesterol medications
Pain medications
Reflux medications
Diabetes medications
Arthritis medications.
Although, any prescription medication can be ordered online using Medmate.
Over the counter products
Pregnancy tests and pregnancy multivitamins like Natalis
Sexual health products such as condoms and lubricants
Feminine hygiene products such as tampons and pads
Cough, cold and flu medications: Betadine Sore Throat gargle, Codral cold and flu, Difflam lozenges, Strepsils
Allergy and sinus medications: Claratyne, Nasonex
Pain relief: Panadol, Nuromol, Nurofen and Asprin
Baby products: Curash baby wipes, nappies, Sudocream
Children's medicine: Nurofen for Children, Panadol for Children, Dimetapp
Vitamins & Supplements: Swisse multivitamins, Blackmores multivitamins
Skincare & Cosmetics: Cetaphil Skin Wipes, Antifungal creams
Stomach & Gastrointestinal meds: Nexium 24hr, Gastro-Stop, Combantrin and Ferrogen
Diet & Weight Loss products: BioSlim, OptiFast
And much more.
eScripts – How to order medication online
For prescription medications you will need to present a valid Australian prescription. This is obtained from a registered prescriber, most commonly a local General Practitioner or a Medmate Online Doctor.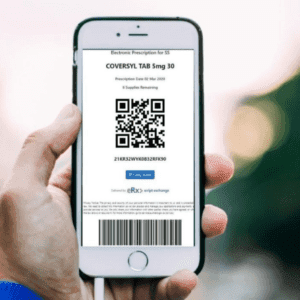 Electronic prescriptions (eScripts) have streamlined prescription coordination between patients and doctors. Request an eScript from your doctor, often available during telehealth visits, and receive it via SMS or email as a QR code called an electronic prescription token. Upload the token into Medmate, where the prescription is verified and priced for your chosen pharmacy. Add the medication to your cart along with other pharmacy items for click & collect or express delivery.
Online prescriptions – How to order medicine online near me
Most General Practices in Australia now how telehealth services for their regular patients. Give your medical clinic a call to find out. Alternatively, Medmate has an online prescription service where you can connect with a fully qualified Australian doctor within 1 hour of your booking, 7 days a week. Ask your doctor for an eScript so you can order online instantly with Medmate for home medication delivery.
Ask your doctor for an eScript
At your doctor's appointment ask your doctor to please issue your prescription as an eScript rather than a traditional paper script.
You can elect to receive this by SMS or email.
Go to Medmate
Download the Medmate App from Appstore or Google Play or visit the Medmate website
Find a Pharmacy
Enter your address (select Delivery or Pick-up) to see a list of local pharmacies.
Select a local pharmacy
Select your favourite pharmacy by clicking "Order Online"
Upload your eScript
Click the yellow "Fill a Script" button.
Enter in your Name and Email Address.
Open the eScript token that your received from your doctor by SMS or email.
Click "Copy Token".
Reopen the Medmate "Fill a Script" page and paste your eScript token.
Shop the pharmacy store
Browse the pharmacy catalogue for all your pharmacy essentials and click "Add to Cart".
Checkout
Choose your best delivery option or click & collect.
Takeaway message
Finding a pharmacy has never been easier with the introduction of Medmate. With over 1000 pharmacies at the click of a button, you can have you pharmacy essentials and prescription medicines delivered to your door in just 60 minutes.
Just what the doctor ordered.
Join the Medmate Community!
Receive free expert health advice from Australian doctors and health advisors. Join the Medmate community now - just what the doctor ordered.

Health Information I Medication Education & Tips I Patient Stories & Videos.