I'm Covid Positive And So Grateful For Medmate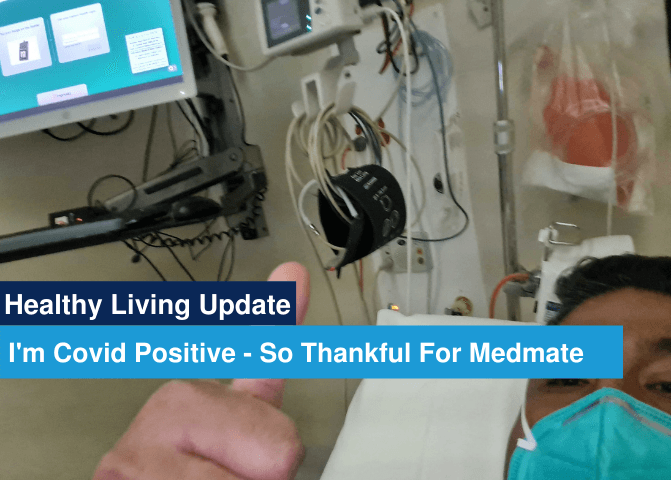 It's been a rough week. I'm covid positive and trying to cope at home. Being a doctor, I know how bad this can get. I thought it was really important for me to record my experience so other covid patients know that they are not alone.
How did I get Covid?
I currently don't know how I contracted the virus. I have not been in contact with any known covid positive cases. Although, in my area of Melbourne in the last week there has been an increase in local cases. My son's school had been shut down for a day due to a positive case. Despite that, all my close contacts and my immediate family have all tested negative. I have not been travelling or been anywhere unusual. Pretty boring actually, I've just been going to work each day and coming home. Local shops for groceries. That's about it. Always wearing a mask. So, it's a mystery.
What are the symptoms of Covid?
For me I suddenly developed a sore throat. Over the next 24hrs this worsened into a snuffly nose, bad headache, aches and pains, shivers and night sweats.
At about Day 2 I developed a cough. Initially this was bringing up some white sputum. But, over the next few days this became green coloured and was actually streaked with blood.
I felt a little tight in the chest, especially when I coughed and was talking in shorter sentences. I was really tired and found that I had to lie down frequently. And I can't smell a thing – nothing.
How do you get tested for Covid?
As soon as I developed the sore throat and headache on the first day I drove to a local testing centre with 4Cyte Pathology. I didn't need an appointment or a doctors referral. It was a great operation. There were traffic conductors that instructed me to remain in my car. I was in a queue for about 2 hours. Eventually, it was my turn to drive through a big white outdoor tent. The pathology collectors were fully protected in gowns and masks. I wound down my window and they took a swab of my throat and deep up my nose. It was a little uncomfortable but not too bad.
How long did the Covid results take?
I isolated at home while I awaited my results which were texted to me within 24 hrs.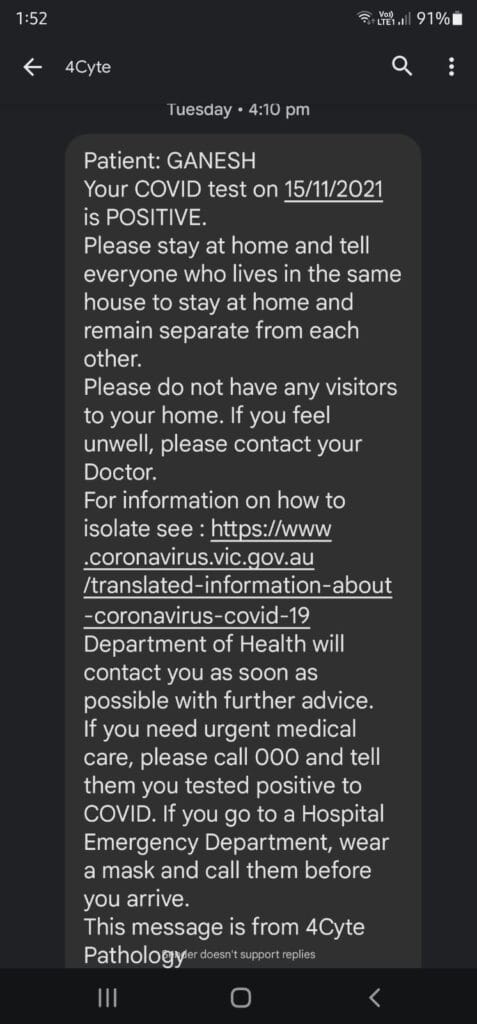 Living with a Chronic Disease? – You're Not Alone.
Learn how to achieve your best quality of life not defined by your disease.

Medmate provides free medical and lifestyle advice for patients.

Get access to Australian doctors and pharmacists 24/7 to answer your questions.
Free articles from health experts about evidence based management to prevent disease progression and complications.
Your questions answered about natural therapies. Are they effective? Are they safe?
Stop feeling isolated. Join other Australian patients in the Medmate Community below. We're all in this together.
Can you still get sick if you are vaccinated for Covid?
Yes, you can. I am double vaccinated with Pfizer. I do have some background issues with asthma and lung infections so covid was always going to be a risk for me. I felt really sick on the first day and then seemed to be stable. At Day 3 things got worse when I started coughing up blood. It was likely that I had a secondary bacterial infection in my lungs and knew it was important that I got some medical help.
How do you get help if you are getting worse?
I would definitely advise that you should contact your regular General Practitioner to seek help. Most clinics will now have a telehealth service. In my case, I don't have a regular GP (I know that's really bad – doctor's are the worst patients!). I knew that I really needed someone to examine my chest and I probably needed tests done. Hard to do if your covid positive. How would I even get to a health service?
I had a good read of the Victorian Government's covid website . This had some really useful information and a 24/7 Hotline: 1800 675 398
It was really reassuring for me to give them a call and talk through my problem with one of the nurses. They strongly advised that I go to hospital for an assessment.
I didn't really want to go. I didn't feel sick enough. But I was also worried that I was worsening. There was no way to get there except by ambulance. The nurse advised me to call 000.
I was taken straight into an isolation room of the covid unit of my local public hospital. The nurses hooked me up and took my vital signs:
Pulse
Respiratory rate
Temperature
Blood pressure
Oxygen saturation
ECG (heart tracing)
They put me on a drip and took blood tests and a x-ray of my chest.
My vital signs were ok, so I didn't need oxygen. Good. But I did have a pneumonia in the upper part of my right lung. Bad.
How is my Covid being treated?
Covid-19 is a virus so there is nothing that can be done about the virus except letting my immune system get rid of it. The problem I have is a secondary bacterial infection that is causing a pneumonia. Thankfully, its not severe enough at this stage to require hospitalization. So I was able to go home after all the tests were done and the doctors started me on treatment. The local hospital has enrolled me in a local covid home based care pathway. This is fantastic because each day I get checked on by the service to make sure I'm moving in the right direction.
So my treatment is now medications – important antibiotics that I need to keep on for at least a couple of weeks. I am isolated at home so I need to get medications delivered. Thankfully, I have been able to order online using Medmate with my local pharmacy.
My Advice
Get covid vaccinated! I think I'm going to be ok with home based care because my immune system was ready to beat this virus. If I hadn't been vaccinated this could have been deadly for me. It's really important to have a regular general practitioner who knows your medical history and can advise you when you get unwell. Follow the guidelines. Get vaccinated. Wear a mask when you need to and get tested as soon as you become unwell. You owe it to yourself and the community.