Nicotine Prescriptions Australia and Nicotine Vaping Products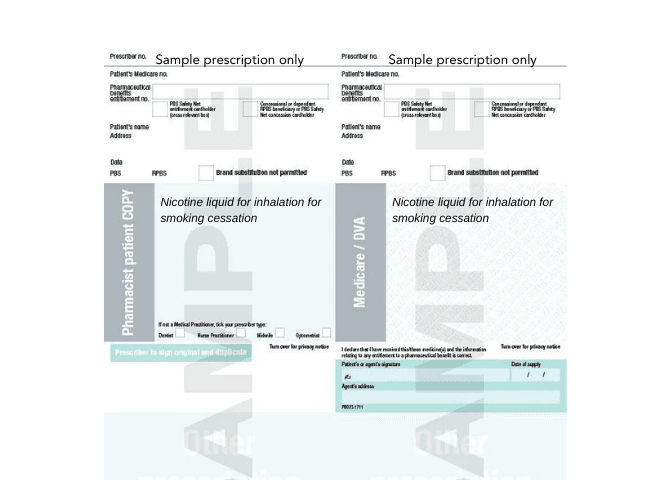 Vaping is another term for an e-cigarette. The vape is a battery powered device that contains a liquid. Vaping liquids can contain nicotine for use as nicotine replacement as part of a smoking cessation program. Vaping is Australia's most popular quitting aid and is significantly more effective than nicotine replacement therapy.
The difference between smoking and vaping is that smoking delivers nicotine by burning tobacco. Smoking is dangerous as the toxins produced by burning tobacco damage your body and cause lethal smoking related illnesses. Vaping delivers nicotine by heating a liquid in a much less harmful way. Vaping is a much safer alternative than smoking cigarettes. Vaping is not harmless, but it is much less harmful than smoking.
Is nicotine vaping safer than smoking?
Vaping is at least 95% safer than smoking according to the Royal College of Physicians. This estimate is based on independent reviews of the scientific evidence by both Public Health England and the UK Royal College of Physicians.
 "Although it is not possible to precisely quantify the long-term health risks associated with e-cigarettes, the available data suggest that they are unlikely to exceed 5% of those associated with smoked tobacco products and may well be substantially lower than this figure – Royal College of Physicians".
Most of the dangerous toxins in cigarette smoke are not present in vapor. When smokers switch to vaping, levels of toxins and carcinogens measured in the blood, saliva and urine ('biomarkers') are substantially lower and for many toxins are the same as for a non-smoker. The risk of cancer from vaping has been independently estimated to be <0.5% of the risk from smoking.
Switching from cigarettes to vaping is a way to immediately minimize harm.
How to get a nicotine vaping prescription in Australia 
In Australia, it is illegal to buy or sell nicotine for use in e-cigarettes without a prescription from an Australian doctor that is an authorized prescriber of nicotine vaping products.
Quitmate doctors are Australian registered doctors that are authorized to write nicotine vaping prescriptions.
If you have been unable to quit with conventional (first line) treatment, Quitmate doctors may consider vaping nicotine as a safer alternative to cigarette smoking and provide nicotine prescriptions when appropriate. Electronic prescriptions can be written instantly and delivery organized with one of Medmate's 1200 pharmacies nationally.
Click here to apply for a nicotine prescription.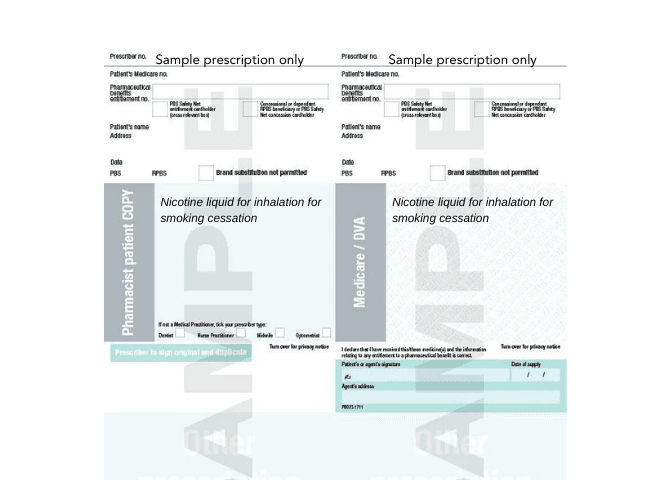 First line quit smoking treatments
Nicotine Replacement Therapy
An important part of a smoking cessation plan is to understand your nicotine dependence. Using products to help control nicotine cravings has been shown to improve quit smoking rates.
Nicotinell and Nicorette nicotine patches and chewing gum – can assist by giving the body nicotine in another form and enable withdrawal by gradually reducing doses.
Combination therapy seems to be the best. This involves combining a long-term form of nicotine replacement therapy (such as a nicotine patch) with a short form for cravings (such as gum, lozenge, inhaler).
Nicotine patches can work synergistically with nicotine vaping products.
Medications for smoking cessation
Medications to assist with quitting smoking are effective. Varenicline has been shown to improve quit smoking rates by reducing cravings for smoking.
Treatment is needed for at least 3 months. Some patients experience side effects such as nausea, difficulty sleeping, insomnia, vivid dreams and constipation. Many of these improve or subside after a few weeks.
It is recommended that all patients discuss the potential use of medications as part of your smoking cessation plan.
There are two pharmacological interventions for stopping smoking available on the Pharmaceutical Benefits Scheme (PBS). These include:
Bupropion (Zyban) – sustained-release tablets which affect some of the areas of the brain that are affected by nicotine and play a role in brain reward for nicotine withdrawal.
Varenicline (Champix) – can reduce cravings and block the rewarding effects of smoking.
All medications have risks. Your doctor will talk to you about the risks versus benefits of utilizing medications as part of a smoking cessation management plan.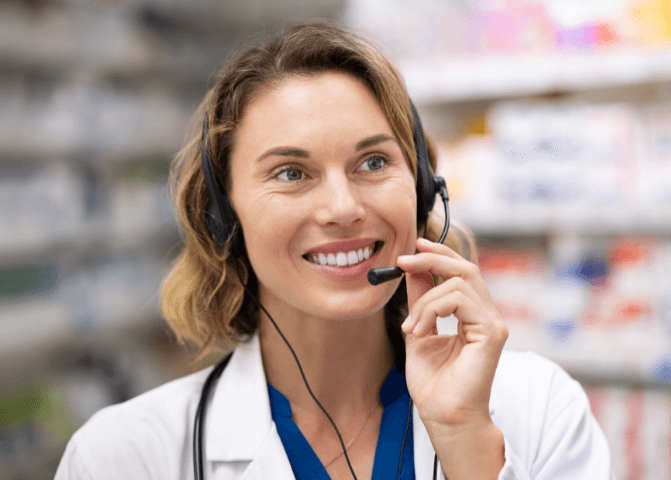 Counselling
Counselling is recommended for all patients that are on a smoking cessation plan. Quit smoking counsellors are trained to discuss practical ways to deal with triggers and high-risk times for smoking. Thinking through these high-risk triggers and having a plan in place in how to change your behaviour to avoid smoking cigarettes is vital.
Quitmate recommends contact with Quitline counsellors as part of a quit smoking program and will provide a referral as part of your smoking cessation program.
Home delivery of smoking cessation treatments
Medmate works with pharmacies all over Australia to deliver nicotine vaping products, medications and nicotine replacement therapy safely and discreetly to your home. Order online with a Medmate pharmacy or use the Quitmate service.