COVIDSafe Telehealth – A Guide For Medical Clinics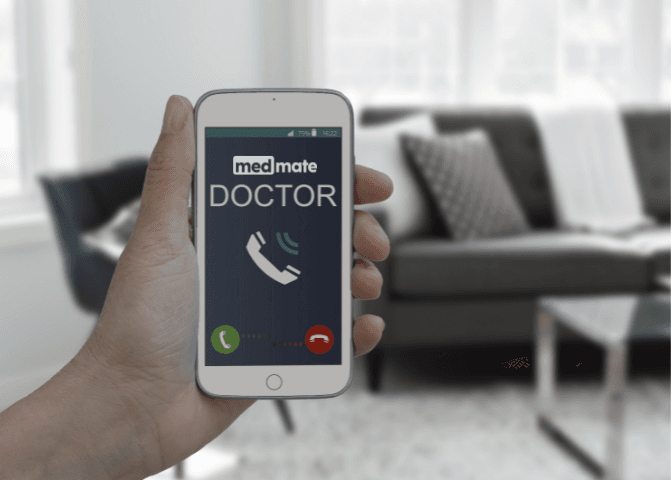 What is telehealth? What are its benefits? Learn about telehealth services and how this digital transformation can benefit you.
The Covid-19 pandemic has forced the rapid uptake of telehealth. The delivery of great telehealth requires the digital transformation of general practice.
Since early March 2020, more than 86.3 million telehealth services have been delivered to 16.1 million patients.  More than 89,000 providers have delivered telehealth services.
The Federal Government has confirmed permanent Medicare funding for telehealth.
"Telehealth has been transformational to Australia's universal health care and has played a critical role in ensuring the continuity of care for hundreds of thousands of Australian patients during the COVID-19 pandemic, protecting the health of patients and health professionals. It offers greater flexibility to health care as part of universal Medicare.

Telehealth is here to stay – Telehealth, rapid antigen testing, electronic prescriptions, home medicine delivery – they're all about taking pressure off the hospitals, and supporting patients and providing access,"

Health Minister Greg Hunt
So telehealth is here permanently and as medical center owners we need to get good at it.

Living with a Chronic Disease? – You're Not Alone.
Learn how to achieve your best quality of life not defined by your disease.

Medmate provides free medical and lifestyle advice for patients.

Get access to Australian doctors and pharmacists 24/7 to answer your questions.
Free articles from health experts about evidence based management to prevent disease progression and complications.
Your questions answered about natural therapies. Are they effective? Are they safe?
Stop feeling isolated. Join other Australian patients in the Medmate Community below. We're all in this together.
The benefits of telehealth for General Practices
Primary care research shows that telehealth can be used effectively for about half of all consultations that are seen in a standard general practice clinic.
The majority of medical clinics in the country now offer telehealth to regular patients with many clinics conducting 20-50% of their consultations online.
The benefits of telehealth for medical clinics are:
Covid-SAFE: protecting patients, doctors and medical centre staff from unnecessary risk of exposure. Reduce the risk of shutting your business down with an exposure.
Meeting patient demand: modern consumers now expect online channels to access goods and services.
Improved medical centre efficiency: A well run telehealth service can significantly reduce practice administration time.
Reduce consumables cost: Online bookings for telehealth combined with eScripts (electronic prescriptions) and eReferrals (electronic referrals) means no printing and faxing, making life easier for your doctors and staff. No more broken printers.
Increased patient catchment: An efficient telehealth service can reach many more patients than would have purely used the face-to-face service.
Improved appointment book utilisation: Telehealth consultations increase total appointment demand.
Improved clinic profitability: increased appointment utilization and patient loyalty combined with a reduction in administrative and consumables cost means a direct increase to your bottom line.
Is telehealth too hard?
This is an important question. Traditionally, medical centres in Australia have not offered telehealth services on mass to their patient populations. The Covid-19 pandemic forced all clinics to adopt telehealth models of care rapidly in 2020. There were many practical implications of this sudden step change. Here are a few of the important questions:
How do we get started with telehealth?
What equipment do my doctors need? Do we need to order web cameras and new computer screens?
Do I need special software to run telehealth appointments?
What do I charge for a telehealth appointment?
Can patients receive Medicare funding for a telehealth appointment?
Which patients qualify for Medicare funding?
How are my staff going to screen patients for telehealth?
Do I need to change my online booking system to help with channeling appointments to face to face or telehealth?
How do my doctors issue prescriptions?
How do we get the scripts to the patient?
How does the patient get the script to the pharmacy?
How do my doctors issue referrals for radiology and pathology? How do we get the referrals to the patient?
There is no doubt, that many clinics struggled to operationalize procedures to solve all of these problems. Thankfully, most of the online booking engines quickly implemented screening tools as part of the booking process to streamline patients into face to face or telehealth bookings. This allowed clinics to implement rules and business models around which patients could access telehealth.
However the practical experience for doctors and patients has still been fragmented, particularly in regard to prescriptions and medication access.
In early 2020, most doctors were still needing to print paper prescriptions and referrals. The implications of this are profound. The only way to get these scripts and referrals to patients was to scan and email them. A major administrative task for busy clinics and fraught with medico-legal risk with the transfer of medical information over unsecure channels. Many errors have occurred with scripts and referrals going missing or being emailed to the wrong patient.
Many clinics have had this experience and simply thought of telehealth as being too hard – actually finding it an increase to their administrative workload and a burden to doctors and staff.
The current telehealth experience for prescriptions is broken for patients and doctors.
It's important to think of the entire patient journey. Here is the type of telehealth journey for prescriptions that many patients and doctors are experiencing.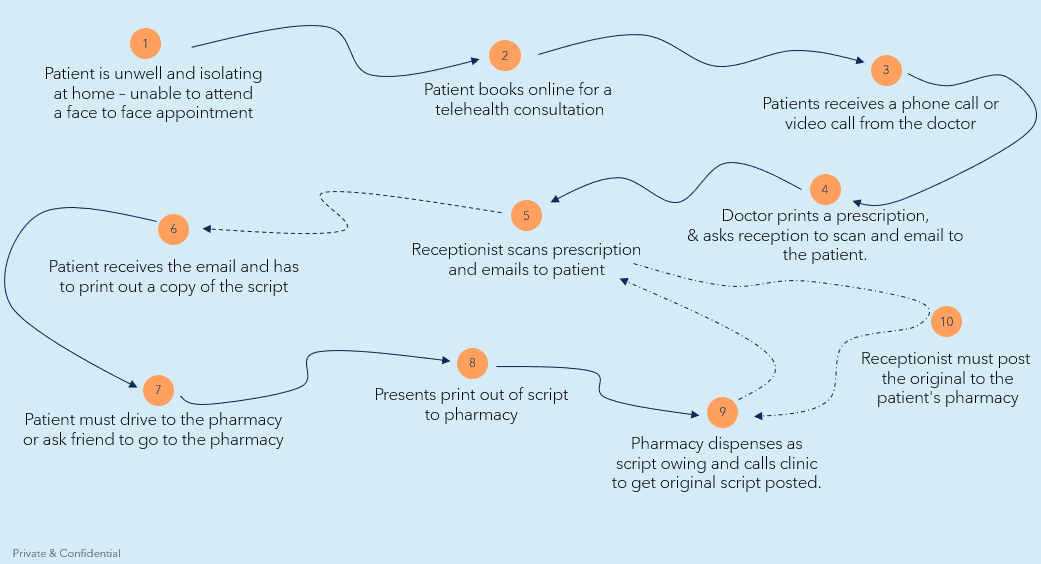 This type of experience is frustrating to say the least.
An inconvenient, fragmented patient journey.
Manual processes with high administrative burden.
Avoidable environmental waste (paper, toner and printers).
Poor patient and doctor experience can lead to patient leakage to more efficient services.
How do we get prescriptions to patients easily?
It can be done! Most clinics around the country have made the switch to electronic prescriptions in the last 12 months. Practices can now install software to allow patients to get their scripts and referrals instantly by SMS or email.
Electronic prescriptions (eScripts)
An electronic prescription is the most convenient way to receive a prescription from your doctor. It is a digital version of the paper prescription that we have all been using for many years.  They are more convenient, safe and secure than paper prescriptions, particularly hand written traditional scripts. Patients receive eScripts by SMS or email in the form of a QR token which can be used at an community pharmacy. Importantly, eScripts can be used to order online instantly for click & collect or express medication delivery.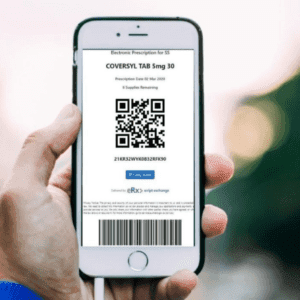 Make your telehealth service seamless with electronic prescriptions
Remember that broken telehealth experience? Well, with electronic prescriptions, electronic referrals and home medication delivery, this is what it could look like for your patients.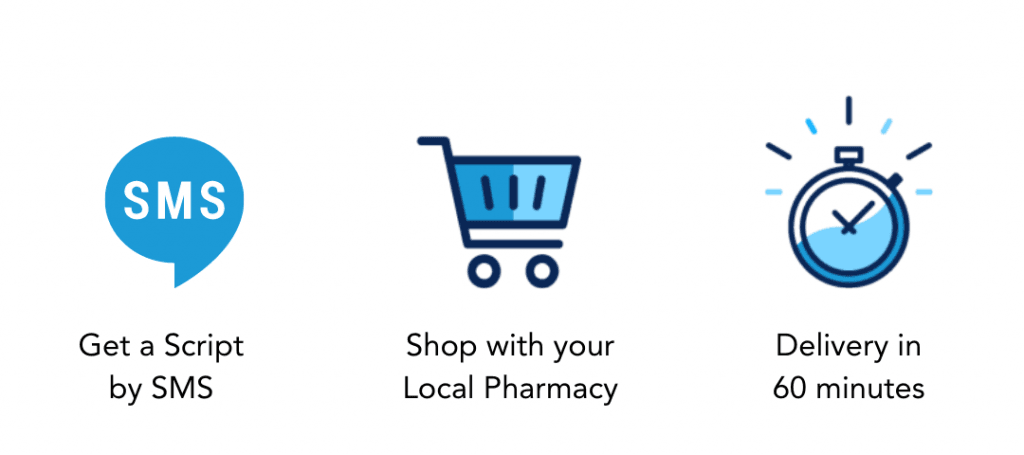 You complete an online telehealth consultation with your clinic.
You receive an instant electronic prescription by SMS.
You choose a pharmacy and upload your prescription with Medmate.
You pay for your order online and track your delivery.
Your medication arrives at your doorstep within the hour.
How do we get help to improve our telehealth services?
Australian general practices are busy. We know how difficult it can be to introduce new models to doctors and patients. Medmate is an Australian Government approved health care organisation that works with medical clinics all over Australia to streamline telehealth services with electronic prescriptions, electronic referrals and home medication delivery.
Importantly, we help you educate your doctors and patients about telehealth services and eScripts with amazing custom content and patient communications.
Talk to our team today about how to optimize your telehealth service.
Email enquiry@medmate.com.au or call our team on 1300 858 909
References
(1) Omnichannel: It's time for the online tail to wag the retail dog