Glucosamine For Arthritis – Does It Work?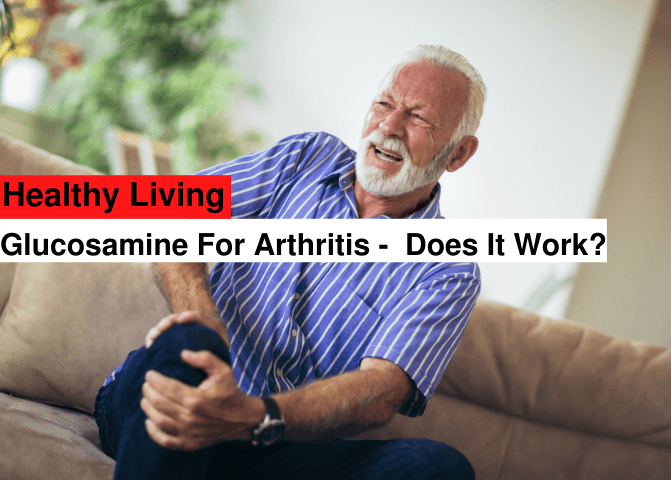 What is glucosamine? Below we look at all things glucosamine, from its role in joint health to the right dose to take and side effects that may present.
Table of Contents
What is Glucosamine?
Glucosamine is a common supplement used to delay the cartilage breakdown in joints.  In arthritis, our joint cartilages tend to suffer from degradation or degeneration, which causes pain and swelling. Glucosamine can help in countering the effect of this degradation by slowing this process. In addition, glucosamine protects the specialized cells (chondrocytes) that play their role in maintaining cartilage structure.
Cartilage is the natural cushion between joints which is responsible for:
Smooth movements
The pain-free motion of the joints
Glucosamine is a body's natural compound which is available in two forms:
Glucosamine hydrochloride
Glucosamine sulfate
Use of glucosamine for joint health
Globally, glucosamine has its popularity as the most effective supplement for osteoarthritis (OA) (3).
In the case of RA (rheumatoid arthritis), our body's immune system starts attacking itself, leading to connective tissue and cartilage destruction. Unlike OA, this destruction doesn't depend on the wear and tear of daily life. There are reliable sources that recommend the use of glucosamine supplements for the treatment of rheumatoid arthritis and osteoarthritis.
Glucosamine plays its beneficial role in joint health by (4):
Reducing the concentration of pro-inflammatory factors in the body as interleukin-6, interleukin-1, and tumor necrosis factor
Improving the synthesis of specialized proteoglycans which can inhibit the degradation of cartilage and improve the joint mobility and functioning
Furthermore, glucosamine also helps in refining the cellular redox state, which in turn:
Reduces the oxidative damage
Fights free radicals
Upregulates or enhances enzyme levels and anti-oxidant proteins
Inhibits the reactive oxygen species production
Delays the osteoarthritis progression
The most characteristic features of arthritis are pain, swelling, and stiffness in the joints. Lack of ROM (range of motion) and mobility are the secondary symptoms of arthritis. In conclusion, glucosamine can significantly improve these symptoms and the range of motion of the joint.
Living with a Chronic Disease? – You're Not Alone.
Learn how to achieve your best quality of life not defined by your disease.

Medmate provides free medical and lifestyle advice for patients.

Get access to Australian doctors and pharmacists 24/7 to answer your questions.
Free articles from health experts about evidence based management to prevent disease progression and complications.
Your questions answered about natural therapies. Are they effective? Are they safe?
Stop feeling isolated. Join other Australian patients in the Medmate Community below. We're all in this together.
Can glucosamine improve joint pain and mobility?
Several pieces of evidence support the effectiveness of glucosamine for the treatment of arthritis and joint health.
According to a study, a two year-period of glucosamine supplementation in 572 patients brought significant results in the condition. The dosage of glucosamine in this clinical trial was 500 mg three times a day. There was a significant radiographic improvement of OA with glucosamine and a combination of glucosamine with other supplements (5).
Likewise, another study enrolled about 200 participants with joint pain (arthritis). This clinical trial used a dosage of glucosamine as 1500 mg daily. This trial continued for three years, which showed significant improvement in joint functioning, stiffness, and pain (6).
According to one animal study (7), glucosamine can inhibit the gene expression of osteoarthritis in the cartilage.
So yes, with the help of long-termed glucosamine administration, we can achieve reduction in cartilage destruction and joint pain.
Supplement formulations and doses of glucosamine
Glucosamine is in several forms or formulations as:
N-acetyl glucosamine
Glucosamine sulfate
Glucosamine hydrochloride
A combination of chondroitin sulfate and glucosamine can work the best in several clinical trials. In addition, glucosamine sulfate has several benefits over other formulations for arthritis conditions.
Glucosamine is available in the form of intramuscular and oral formulations
In terms of the oral formulations, the recommended dosage of glucosamine is:
250 mg tablets or capsule three times a day with meals (preferably)
The treatment duration should at least be six weeks or longer according to your needs
In the case of intramuscular glucosamine administration, the recommended dosage is
400-800 mg glucosamine three times a week for at least four to six weeks or even longer (according to your needs)
Furthermore, glucosamine therapy is beneficial if you repeat it at an interval of two months or at a time when your symptoms recur (10).
Side-effects and interactions
The most common side-effects associated with the use of glucosamine are:
Liver toxicity or injury
Stomach upset
Heartburn and drowsiness
Headache
Nausea, constipation, and diarrhea
Individuals who are allergic to or sensitive to shellfish should avoid taking glucosamine supplements. In addition, the risk of bleeding may increase as a result of the drug interaction with Warfarin.
Moreover, glucosamine can also interact with acetaminophen (paracetemol), which can reduce the efficacy of both the medicine and supplements.
Glucosamine has a few contraindications in certain cases as:
Patients with hypersensitivity to glucosamine sulfate
Oral formulations are contraindicated for patients suffering from phenylketonuria
Intramuscular glucosamine is not beneficial for patients with heart conditions because it contains lidocaine
Key Takeaway
Arthritis is the most common condition of joints leading to pain and mobility problems. Glucosamine supplements can help with combating joint deterioration and improving joint pain and mobility. It's important to discuss the risks and benefits of glucosamine supplementation with your GP as part of your arthritis management plan.
References: