What Causes Acid Reflux?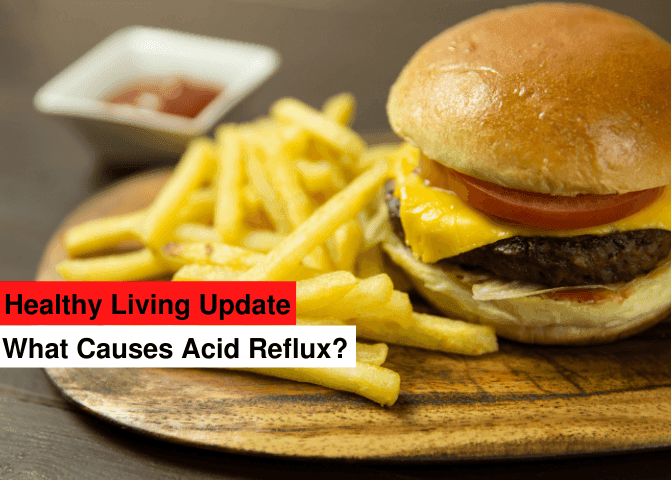 Acid reflux is one of the most common gastrointestinal disorders experienced by people all over the world. This disease, also known as gastro-esophageal reflux disease (GORD), affects about 10 to 15 percent of the Australian population. The incidence of this disorder is also on the rise due to the prevailing obesity in the Australian population (1). Acid reflux disorder is caused when there is a backflow of the stomach acid into the esophagus (food pipe). The acute burning sensation experienced in the lower chest areas during the acid reflux is due to the irritation caused by the stomach contents in the food pipe. This disorder is also known as acid indigestion or heartburn.
What are the symptoms of acid reflux?
Normally, a ring of smooth muscle known as gastro-esophageal sphincter prevents the contents of the stomach from flowing back into the food pipe. When this valve fails, the contents of the stomach including the hydrochloric acid (stomach acid) regurgitate into the food pipe, therefore causing the characteristic feeling of heartburn.
The symptoms of reflux issues may not always be burning. Here are some of the common symptoms that patients may experience:
Nausea
Bloating and belching
Heartburn
Acid regurgitation, especially when lying flat at night.
Water brash (the mouth fills with saliva).
Cough at night, sometimes with asthma like symptoms.
Difficulty swallowing.
It's important that you discuss these symptoms with your doctor. Chronic irritation of the food pipe can lead to serious disorders, even cancer. Patients will often need investigations including an endoscopy (camera study) to properly diagnose that severity of the issue.
What are the causes of acid reflux?
Although there can be many causes of acid reflux disorder, some of the major reasons are:
Food
The most common cause of acidity in people is eating foods associated with causing acidity. Having supersized meals right before bedtime is a major trigger for acid reflux. Some common aggravating foods are:
Coffee, Tea
Chocolate
Fatty foods (pastries and fried food).
Carbonated drinks
Alcohol
People who drink alcohol frequently are also at a big risk of developing acid reflux disease. Alcohol can damage the mucosa of the esophagus and can aggravate the symptoms of acid reflux disease.
Smoking
Smoking is also a major trigger for acid reflux. Tobacco smoke contains nicotine, which can relax the lower esophageal sphincter. The lower esophageal sphincter helps prevent the backflow of the stomach contents into the esophagus. However, the relaxation of this sphincter due to the nicotine in the tobacco smoke aggravates acid reflux symptoms (2).
Medications
Apart from diet and smoking, some pharmaceutical preparations are also associated with acid reflux disease. They include most painkillers such as ibuprofen and aspirin, along with anti-anxiety medications, tricyclic antidepressants, iron supplements, steroids, and some antibiotics.
Obesity
Being overweight or obese leads to increased pressure on the area and aggravates the symptoms of acid reflux.
Pregnancy
During pregnancy, hormone changes also cause relaxation of the lower esophageal sphincter. Together with the increase pressure in the abdomen, this can aggravate reflux symptoms.
Getting Rid of Acid Reflux:
Its very important that you talk to your doctor about your symptoms. Some of the management strategies may include:
Acid suppression medications. Medications such as proton pump inhibitors (omeprazole, esomeprazole) help reduce the production of stomach acid and allow the area to heal. Antacids (Gaviscon, Mylanta) 20ml as required or 1-2 hours after meals and at bedtime.
Lifestyle changes:

Reduce weight.
Cease smoking.
Reduce or cease alcohol.
Avoid fatty foods.
Cease coffee, tea and chocolate.
Avoid carbonated drinks.
Increase fibre intake.
Smaller meals.
Eat your main meal at midday.
Home remedies such as using apple cider vinegar and probiotics also help getting rid of the problem (3)
Key Takeaways:
Acid reflux disorder can be of great discomfort, especially if it is of chronic nature. It can also lead to serious conditions. Make sure you talk to your doctor about the symptoms you are experiencing. Treating it using medications and lifestyle modification can help reduce the symptoms of this disease.
References:
Gastro-oesophageal reflux disease. MyDr.com.au. (2021). Retrieved 11 September 2021.
GERD: Controlling Heartburn by Changing Your Habits | Michigan Medicine. Uofmhealth.org. (2021). Retrieved 11 September 2021.
Gastroesophageal reflux disease (GERD) – Diagnosis and treatment – Mayo Clinic. Mayoclinic.org. (2021). Retrieved 11 September 2021.


Author

Dr Ganesh Naidoo BSc(biomed), MBBS, FRACGP is an Australian General Practitioner. He has significant clinical experience in multiple regions of Australia and has a passion for health transformation to improve clinical outcomes for all patients.

Living with a Chronic Disease? – You're Not Alone.

Learn how to achieve your best quality of life not defined by your disease.

Get access to Australian doctors and pharmacists 24/7 to answer your questions.
Free articles from health experts about evidence based management to prevent disease progression and complications.
Your questions answered about natural therapies. Are they effective? Are they safe?
Stop feeling isolated. Join other Australian patients in the Medmate Community below. We're all in this together.